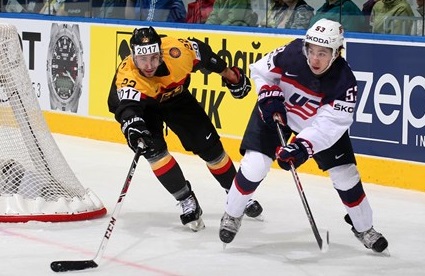 Team USA finished the preliminary round on a high note, defeating Team Germany 5-4 in regulation time. With the victory Team USA has just about clinched the second spot in group B, but they could not have done it without the incredible play of Calgary Flames prospect Johnny Gaudreau.
Drafted 104th overall in the 2011 NHL draft – and only having played a single NHL game in his career – one would not have expected this unassuming, five-foot-six, 150-pound forward to make much of an impact.
But after a scoreless first period, Gaudreau registered his seventh point of the tournament when he assisted captain Justin Abdelkader's goal to open the scoring.
"He is a really good hockey player. He finds the open areas on the ice and sees the ice so well," said Abdelkader. "When he gets time and space on the ice he is dangerous. I think his game has gotten better as we've gone through the tournament here and his confidence has grown and he's played well because of it. He's deadly when he has the puck on his stick."
Gaudreau would tally another assist in the second frame before shelving one of his own to open the third period. Flashing across the blue line, he demonstrated some incredible stick-handling around the face-off circle, leaving two German defensemen standing in the lurch. Once clear, Gaudreau wasted no time putting the Americans ahead 4-3.
But his contributions did not end there.
Nearing the end of the contest, Gaudreau would tee up Abdelkader for his second goal of the match, putting the game just out reach for the German opposition. Gaudreau was also active in the games' final moments, helping to secure the American victory.
"This is my first opportunity to work with Johnny," said American head coach Peter Laviolette. "He has been an important player on this team and is very talented. He's an even better person. He displays such incredible talent and is such a smart player. That's why he's on the ice with two minutes left in the game."
Despite his small stature, Gaudreau leads the team with 10 points heading into the playoff round, and is well on his way to cementing an NHL position with the Flames organization. His remarkable instincts in the offensive zone, creative puck handling and explosive skating ability are what separate him as an immense talent amongst other players.
Tonight Belarus needs to beat an undefeated Russian lineup in regulation to jump the United States, and claim second place in group B. NHL superstar Alex Ovechkin will not play, but American defenseman Seth Jones is not concerned about how the elimination round takes shape.
"We are here to win a gold medal," he said. "That's the bottom line and whether we do it is up to how we play. We're not worried about any other teams."
Whatever happens, expect Gaudreau to make an impact in the playoff round. He scored the Flames only goal off his first shot in his first professional game last month, indicating that he can come up clutch when it counts. This kid is smaller than the rest, but he is also defying the odds.
Gaudreau, also known as "Johnny Hockey" is a serious offensive threat, and teams had better be ready. So learn his name and remember it, because the playoffs start Thursday, and you'll be hearing it again.
So move over Johnny Football, and make room. "Johnny Hockey" is in town, and he knows how to make some noise.

This kid can play.