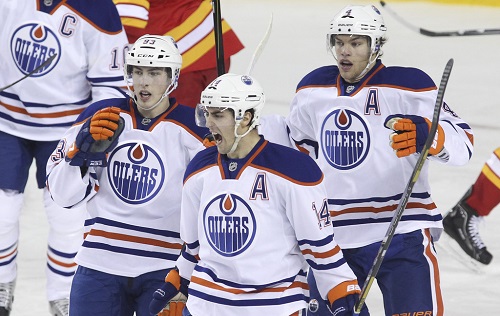 The word rebuild likely strikes every Edmonton Oilers fan with a combination of exasperation and anger. They could have rebuilt the coliseum by now. However, it's never a bad thing to look forward to what needs to be done, and what perhaps just needs a little polishing. Thanks to their dismal season, the Oilers managed to snag the third overall draft pick. This won't help them, however, if they don't know what areas to improve on, and where to stop bringing in the same type of player over and over again.
The good:
Goaltending. This season has seen a lot of switches and let downs in between the pipes, and after a bit of flailing they've managed to stumble upon something good. I still maintain that Ben Scrivens was one of the smartest decisions this season, and bringing him in was both necessary and hugely beneficial. The addition of Viktor Fasth just helped solidify their strength in net further. These two are a great duo and they better not mess with this combination.
The terrific three – Taylor Hall, Ryan Nugent-Hopkins, and Jordan Eberle. These guys are all strong forwards, as has been repeated ad nauseum, but most importantly they're the best TOGETHER. When they're working with each other, they make that nearly magical spark in the offensive line where pucks appear seemingly at will. They can definitely do to improve a few things, but as a whole they should be kept together – sometimes shuffling players between lines to try to find the perfect combination is necessary, but in this case it seems it would only be detrimental.
Perron's pugnacity. I know, I know, everyone is singing Perron's praises, but it's for a reason. He's always willing to get into those rough situations, to shove his way to the front of the net and get into people's faces. It's something the Oilers need on a team that sometimes favors speed and evasion over down-home, back woods, ice rink aggression.
Matt Hendricks, Boyd Gordon, Luke Gazdic – the chosen three-peats. They're a great balance to play off the chosen three of the first line. While they might not be as offensively productive as the Hall/Nugent-Hopkins/Eberle line, they will hustle, kill penalties, and keep things going on the ice while the first line rests. No one in the NHL can play a full game non-stop, so a good fourth line is almost as crucial as a good first line, however controversial that might seem. Each line serves a purpose.
The bad
Gag! Yak! While both skilled in their own right, pairing Sam Gagner and Nail Yakupov wasn't the greatest choice. A lineup is not just the sum of each individual player. The group dynamics play a huge factor, and the dynamic just wasn't working between these two. Now, both these players are marginally uncertain going forward, as there have been murmurs of both potentially leaving, and it would be silly to ignore that. However, if they do both remain, they need to be paired with other players.
Third line says what? They need something solid here. They've sort of been putting all their eggs in one basket with the first line, and while this is fine when it's all working perfectly, it's not always all working perfectly. In moments where the first line screws up or has a bad game, they need strong lower lines to balance it up.
DE-FENSE. There's really just one way to say this. You can have all the talent in the world offensively, but if that is your sole focus, you will lose and you will just continue to lose. A team can score all the points in the world, but to be successful, they also need to prevent the other team from scoring. Sounds simple, but the huge gaps in the defensive line still aren't patched up. Goals against, Oilers management. Lower them.
Dallas Eakins. Enough said.
Love Reading About Hockey?

Subscribe to keep up-to-date with the latest and most interesting hockey news!
| | |
| --- | --- |
| | We hate spam just as much as you |