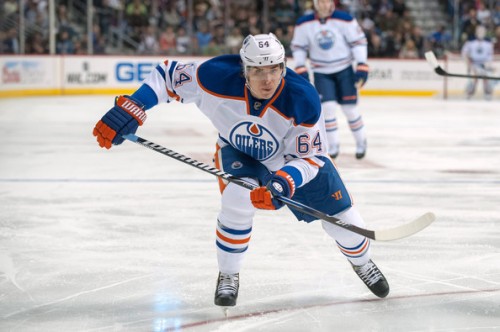 With two seasons now in the record books, it appears that Nail Yakupov, Edmonton's first overall selection in the 2012 draft, has failed to live up to expectations.
In 111 NHL games, Yakupov is minus 37, and has collected a mere 55 points, putting his rookie totals to shame. From 2010 to 2011, he posted 170 points in 107 games with the OHL's Sarnia Sting, and averaged more than a point per game for Russia during the 2011 World Junior Championships.
Yakupov was projected to be a shutdown, lights out forward who could find the back of the net on a regular basis, but many of those drafted after him have proven themselves to be more NHL ready. Defensemen Morgan Reilly, Hampus Lindholm, and Jacob Trouba – drafted fifth, sixth, and ninth overall – respectively, have each registered at least 27 points in their first NHL season, and they each did it from the blue line, 64 feet away from the goal.
Unlike his defensive opponents, Yakupov had the luxury of beginning the season on Edmonton's top line alongside Canadian all-stars Jordan Eberle and Ryan Nugent-Hopkins, but even this wasn't enough to get the young gun started.
"Adversity in my mind is something that helps spur development," said Oilers' general manager Craig MacTavish. "Yak's facing a little bit of adversity, but there aren't too many players [his] age that haven't."
As a winger, Yakupov is responsible for grinding the puck out along the boards, and jumping into every offensive rush. However, he has struggled defensively all year, and you can't score goals when you turn the puck over each night. His rookie season was average (minus four, 31 points in 48 games) although this season – minus 33, with 24 points in 63 games – was a train wreck.
"I'm trying to score, that's all I can do," said Yakupov. "You just have to work and fight for the puck, [and] try to create some good chances." Fortunately he will turn 21 in October, so there is ample time left for him to find his game.
But when you consider Yakupov's corsi percentage, his game may already be found.
Unlike the standard plus/minus statistic, which only measures goals for and against while a player's on the ice, corsi percentage goes beyond this one-dimensional evaluation. A player's corsi number is calculated by subtracting all attempted shots against their team (goals, saves, missed opportunities, and blocks) from shots attempted by their team while that player was on the ice.
Essentially, corsi numbers illustrate team puck possession specific to each player, and Yakupov's corsi percentage has improved from -15.22 per game a year ago, to -11.22 this season. That's an increase of three corsi points, meaning that despite Yakupov's lower point totals, Edmonton was able to generate more offense this year than last when Yakupov was on the ice.
So what does this mean? Well, it means that Yakupov had some lucky shooting last year, and his stats are not as terrible as they seem.
"I looked at every one of the goals he scored last year and I think he's had the same opportunities," said Oilers head coach Dallas Eakins.
Yakupov is entering the last year of his $925,000 entry-level contract, and whether you're a fan or not, expect to see him back in Edmonton next fall. It's expected he'll work on his defensive game this off-season and – with a little luck – light the lamp and contribute offensively next year.
"This kid has to continue to work at his whole game, not just scoring goals," said Eakins. "His goals will come, [but] it's the other part of the game that has to come first."
Love Reading About Hockey?

Subscribe to keep up-to-date with the latest and most interesting hockey news!
| | |
| --- | --- |
| | We hate spam just as much as you |