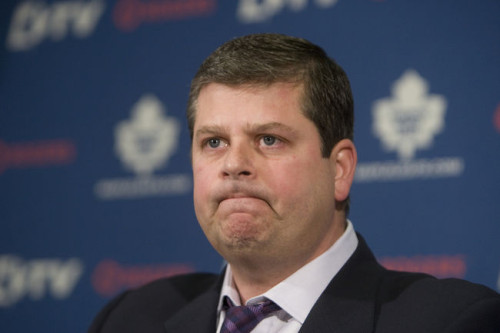 The Leafs have lost 13 of their last 14 contests and Dave Nonis is entirely to blame. This season was doomed from the start and deep down, everyone knew it. The Leafs tanked last season and Nonis acquired Stephane Robidas and Roman Polak to turn the team around.
Put simply – Dave Nonis is a huge idiot.
For a team to win, you need to draft well and develop your players. It doesn't take a genius to understand this, but Nonis' moves indicate his managerial skills are lacking, to say the least. He signed Joffrey Lupul to a five-year contract extension – someone just shy of missing 180 games since 2007 – for $5.25 million annually.
He agreed to pay Tyler Bozak $4.2 million dollars each season despite the fact that he'll disappear for weeks on end. When things are tough, Bozak (who has six points in his last 16 games) fizzles out. To put his contract in perspective, Patric Hornqvist is being paid $4.25 million to play on Pittsburgh's top line with Sidney Crosby.
If Bozak were on a veteran club, however, there is no way in hell he'd be on the top line. In my mind Bozak is a solid second-to-third line guy, because those players can get away without showing up to the rink every once in a while.
And to make matters worse, Nonis locked up David Clarkson until 2020 with a no-trade-clause to boot. The waste-of-space-winger has a cap hit of $5.25 million, a number based off his one and only 30-goal season with the New Jersey Devils in 2011. But Clarkson's a "gritty, hard nosed winger" who likes "to wear his heart on his sleeve," so it makes sense to sign him for more money than the Chicago Blackhawks' Marian Hossa, right?
Clearly Nonis is no champion at comparing contracts and understanding player value.
In his first preseason game for the Leafs Clarkson jumped the boards to fight, landing a 10 game suspension. "Great passionate play, pal. Great work."
This was the first sign that Clarkson was a terrible investment and should he decide to stay in Toronto via his no-trade agreement, he will continue to sink the club for another six years at least. Though even if he agrees to leave, good luck trading him because – honestly – who would want him?
This brings us to another problem in Toronto's lineup: team captain Dion Phaneuf. Nonis asks too much of the miscalculated captain and signing him to a seven-year extension was a huge mistake. But according to Nonis the deal makes sense because "if you look at his numbers since he was a rookie, they stack up favourably with the top defenseman in the league."
Obviously he's correct that Phaneuf can post up points, but there's no way he'll ever register another 60 point season on Toronto's blue line. Playing against the NHL's best every game for roughly 23 minutes while being asked to lead is absolutely ludicrous.
How can you change a player's role, use numbers from his former position to back up your evaluation, and expect him to play like Drew Doughty or Duncan Keith? It doesn't make sense and everyone in Toronto knows this. The next time Phaneuf messes up on the ice, take a deep breath and remember that the real problem is watching from above.
Think of it this way – every time Phaneuf makes a mistake is proof the team is being run by a moron.
The final monster problem in Toronto revolves around Phil Kessel, the team's most valuable asset. He can score and explode up the wing, but does he make players around him better? The fact that Richard Panik replaced him on the top line a few games back says otherwise. By no means is this fourth line demotion his fault – the whole team needs to play better – but this should never happen in the first place.
When a player makes more money than Steven Stamkos and $700,000 less than Sidney Crosby, it's expected he'll be lights out for 82 games. But while you can build a team around Sid and Stammer, you could never build a club around Phil Kessel. He's one of the streakiest players in the NHL, though he would fit nicely on the top line of a veteran franchise.
In total of all the players we've discussed, the Leafs have pumped out $29.7 million, almost half of the team's $69 million cap hit. Keep in mind this is not including the $4 million being paid to Jake Gardiner who – despite posting five points his last 20 games – is still deemed a core piece in Toronto's "scorched-earth rebuild."
Yes he may have arguably been Toronto's best defenseman at the end of last season (registering 14 points during the final 21 games) but he has not exactly cashed in this year. Further, his contract is uncomfortably comparable to Cam Fowler, Marc-Edouard Vlasic, and Kevin Shattenkirk. While Gardiner's contract is not the worst, however, it's ultimate worth hangs in the balance.
One final thought: combined the Leafs are paying Clarkson and Lupul the same amount of money ($10.5 million) as the Blackhawks are paying Jonathan Toews. It makes me sick.
So what does this mean? It's simple, Dave Nonis has destroyed this team and needs to be "scorched" along with everything else. It's time for him to leave.
Love Reading About Hockey?

Subscribe to keep up-to-date with the latest and most interesting hockey news!
| | |
| --- | --- |
| | We hate spam just as much as you |