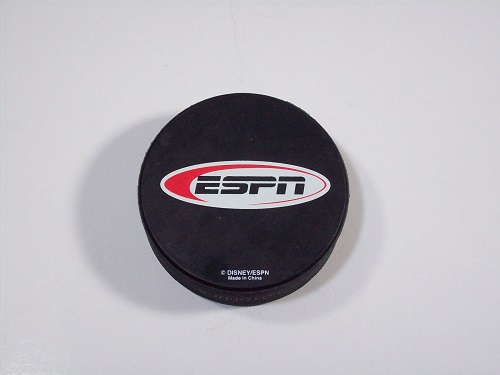 On November 11, 2013, one of the best players in the National Hockey League suffered a gruesome leg injury in a game against the Boston Bruins. The player, Steven Stamkos of the Tampa Bay Lightning, has won the Maurice "Rocket" Richard trophy, given to the league leader for goals in a season, twice.
NHL fans have probably heard of him.
ESPN, "The Worldwide Leader in Sports," may not be as familiar. When Stamkos broke his tibia in that fateful game against Boston, ESPN realized they should probably mention the injury on their website. The headline: "Stamkos has most goals since 2008-09."
Did they think they could catch up on the last six years of his career that they've hardly covered by writing an all-encompassing, all-telling headline?
***
ESPN is in a weird place with its hockey coverage, particularly on television. Should it simply continue to cover the sport sparingly and without much passion? Should the network bail completely and not acknowledge hockey as a sport? Because for a network that airs SportsCenter for several hours every day, the amount of hockey coverage is sparse.
Nowadays, there are plenty of places hockey fans can turn to for coverage. ESPN isn't the be-all and end-all. But it's still "The Worldwide Leader in Sports," and many would argue that hockey would be more popular if it were often featured on ESPN. And since the NHL is one of the four major American sports and ESPN is the major American sports network, it is worth looking deeper and discovering what the disconnect is between the two.
Deadspin's Patrick Burns took an extensive look at ESPN's hockey coverage, among other things, by watching a year's worth of SportsCenter episodes. Burns spent 23,052.75 minutes watching every 11 p.m. episode of SportsCenter for 365 consecutive days.
In that time, SportsCenter covered the NHL for 459.5 minutes, or 2.7 percent of the total time. In an entire year of 11 p.m. SportsCenter shows, they talked hockey for less than eight hours. For comparison, the National Football League was covered for nearly three full days. During the first week of the NHL Lockout, SportsCenter covered the NHL for 1 minute and 45 seconds. "Griffining" got more coverage than hockey that week at 3 minutes and 15 seconds.
So, why won't ESPN talk NHL? There are two major reasons: broadcasting rights and national discussion.
They want to dictate national discussion, and the discussion they want to dictate revolves around the sports that ESPN airs. These reasons are vastly interconnected, as you will see, and you can't talk about one without mentioning the other.
***
Dictating national discussion is important to ESPN's business plan. If "The Worldwide Leader" can make people talk about sports that are aired on its network, that brings more eyeballs and better ratings.
On the flip side, ESPN will talk about sports they don't have the rights to if people are passionate enough about them, if that's what attracts viewers. So, is hockey neglected because ESPN doesn't have the rights or because people don't care enough? ESPN's senior vice-president and director of news Vince Doria has said, "It doesn't seem like there's a lot of yammer out there to give us hockey talk." Doria also said, "…it doesn't translate to television, and where it really doesn't transfer much is to a national discussion, which is something that typifies what we do."
In other words, ESPN believes (or wants people to believe) that fans across the country simply don't care enough about hockey to warrant coverage. Why should they waste valuable resources covering the sport if no one cares? This makes sense business-wise.
But is it accurate? The counter-argument is that people do talk about the sport, but they don't talk about the sport to ESPN because ESPN doesn't talk about the sport to them. It's kind of like the chicken and the egg.
As Awful Announcing points out regarding Doria's quotes, "ESPN doesn't talk about the NHL because there isn't enough interest in the sport, but there isn't interest in the sport because ESPN doesn't talk about it."
Hockey fans don't go to ESPN for hockey coverage because they have been trained to know that they're not going to get any there anyways. There are plenty of online sites and forums where hockey is prevalent. The NHL is growing financially every year, and there are conversations and debates to be had, just not on ESPN, apparently.
So, the issue isn't whether there is potential for national discussion of hockey, because there is. The issue is why ESPN thinks there can't be national discussion about hockey.
Most people would say it is because "The Worldwide Leader" doesn't have the broadcasting rights for the sport. NBC Sports has the rights to broadcast the NHL. ESPN had the rights from 1992-2004 but sacrificed them to spend their money on Major League Baseball instead (as documented in "These Guys Have All The Fun," the fantastic oral history of ESPN).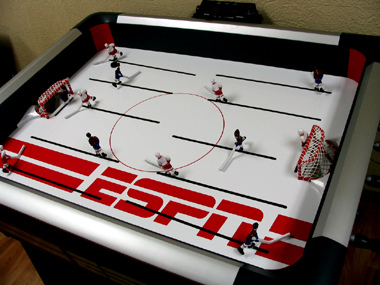 Do you really think ESPN thought hockey didn't translate well to television when they broadcasted the sport for 12 years? It's simply business, really. For a sport that is rapidly growing in popularity, why would ESPN want people to take interest in a sport that is rapidly growing in popularity, and worse, change the channel to NBC Sports? If it had the rights to hockey, ESPN would certainly discuss the sport more. Doria nearly admitted as much. "Listen, I guess if we were rights holder, there probably would be a little more attention paid to it," he said.
The confounding bit is this: In April of 2012, an hour-long episode of SportsCenter that aired the afternoon following the opening games of the Stanley Cup Playoffs devoted 2 minutes and 8 seconds to discussing hockey and 9 minutes and 42 seconds to previewing a regular season basketball game between the Chicago Bulls and the Miami Heat.
The basketball game was on TNT later that night.
So, why did ESPN spend so much time on a game that wasn't on their network if their motive for not discussing hockey is that it's not on their network? The simple answer is that ESPN does have rights to National Basketball Association games, so they want to pump up any NBA action so people will watch when it is on ESPN. Plus, like I said before, if there is an interest, they'll talk about it.
But it goes deeper than that. ESPN is not the only one to blame for this.
The NHL simply doesn't do as good of a job as other sports in marketing its top-tier players and personalities. People in Asia know who Stephon Marbury is. LeBron James is arguably bigger internationally than he is in the states. Kevin Bieksa? Not so much. Even the big names, particularly Steven Stamkos, are not well-known outside of Russia and Canada.
And there are plenty of great stories all around the NHL waiting to be told. Josh Harding of the Minnesota Wild, arguably the best goalie in the league this season, plays with multiple sclerosis. Jon Cooper, coach of the Lightning, bounced around as an attorney for years before he began his rise as a coach. Go find some video of an old trick-shot competition, and take a look at Alex Ovechkin and Patrick Kane. You'll see the league doesn't lack characters.
Marketing, while a different topic for a different day, is also an important element in this discussion.
But, as with everything polarizing in the world, the answer to "Why doesn't ESPN cover hockey" isn't black-and-white so much as it is mired in shades of gray.
***
There is some credence to what ESPN says about NHL translating to television. It is certainly a sport that is better live and in-person. It is the sport that benefits the most from high-definition television. As a Lightning fan who has to watch most games in standard definition from my dorm room, I can tell you that the experience is simply a lot less aesthetically pleasing than watching in HD.
Also, the majority of the time a goal is scored, you (and often the announcers) have to see the replay to know what really happened with the puck. No other major sport really has an issue like that during broadcasts. The ball is usually big or distinctive enough that it is easy to follow, high-definition or not.
But, as far as the national discussion surrounding hockey goes, ESPN is simply way off-base. One thing Doria says is that "baseball fans are interested in where Albert Pujols is going" and that hockey fans only care about their local team. That is a pretty shallow thing to say, even from an ESPNer. Polarizing players like Sidney Crosby, Alexander Ovechkin, Patrick Kane, Roberto Luongo and many others engender plenty of national discussion and debate on their own.
You just won't find it on ESPN.
***
NBC Sports and the NHL are signed on through the 2020-21 season, and things probably won't even come close to changing until then. And by then, they may never change. At that time, will hockey fans, or ESPN, even care what the other thinks? Do they even care now? Now that there are plenty of outlets for fans to get their hockey fix, we are conditioned to understand that we don't get hockey coverage from ESPN. Will anyone bother to fix what is already a damaged relationship?
***
In the summer of 2011, I was fortunate enough to go on a tour of ESPN's studios in Bristol, Connecticut. I happened to wear my Steven Stamkos T-shirt that day.
Late in the tour, as my family and I scanned ESPN's newsroom, a man walked up to me and said, "Stamkos got traded," and walked away. I set into a sharp panic for at least a few minutes, scouring the Internet for confirmation of this rumor floated to me while I was at the "Worldwide Leader in Sports."
It was a lie, of course. He didn't leave Tampa Bay, and he still hasn't. While it may not have been true, I learned my lesson.
ESPN is, quite literally, not the place to go for hockey coverage.