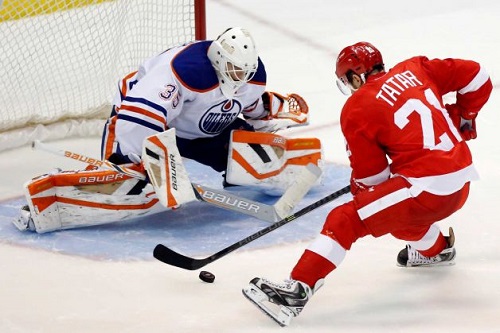 The Edmonton Oilers came up short against the Detroit Red Wings losing 2-1 in a shootout on Friday night in Motown.
Edmonton's Nail Yakupov was called for slashing at 10:25 in the first, and although Edmonton killed off the penalty, they were not able to douse Detroit's newly generated momentum.
The Wings' Riley Sheahan scored at 13:53 in the opening frame, but despite numerous power play opportunities they were unable to pull away further. Edmonton's Viktor Fasch played a strong game from start to finish, and gave his team a chance to come away with two points.
Oilers Captain Andrew Ferrence and Wing's forward Justin Abdelkador dropped the gloves at the end of the first period, but the referees intervened before any serious punches were thrown.
Despite having a power play opportunity midway through the second period, the Oilers were unable to convert. Edmonton failed to get many shots on goal after entering the offensive zone, and the Wings would clear the puck out of harms way.
But Detroit's hard-nosed defensive game was not perfect through 60 minutes, as seen when the Oilers' Ryan Smyth scored with 11:07 to play in the final frame. Smyth intercepted a clearing attempt by Brendan Smith down low, and fired a shot glove side to beat Jimmy Howard and tie the game.
"I absolutely didn't expect that," Smyth said. "I thought he was going to throw it around the boards. Smith just threw it up the middle."
At 1:21 into the overtime period, Edmonton's Martin Marincin received a delay of game penalty, though the Oilers found a way to kill it off and extend the game to a shootout. After 65 minutes of play the Redwings out shot the Oilers 23-22, though Edmonton had gone a perfect five for five on the penalty kill.
Detroit's Tomas Tatar was the only player to find the back of the net in the shoot out, giving the Wings a much needed point in their fight for the final wild card spot in the eastern conference. The Wings now have 73 points and are tied with Philadelphia for the final playoff position.
The Redwings are looking to make their 23rd straight post season appearance, while the Oilers are on the brink of being eliminated from playoff contention for the eighth season in a row.
"We still have such a long way to go to get up to be able to play with the top teams on a nightly basis, but we're taking the necessary steps," said Oilers head coach Dallas Eakins.
The Oilers, who have gone a respectable 8-4-3 in their last 15 games, will wrap up this four game road trip when they visit the Carolina Hurricanes on Sunday at 3 p.m. eastern time.