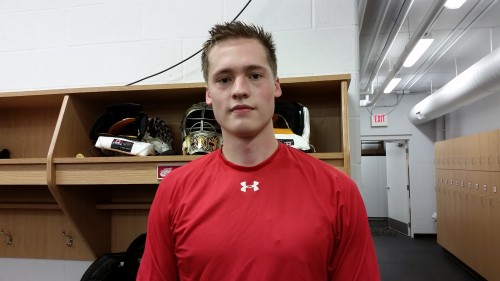 I spoke with 2014 draft pick, goalie Chase Perry (5th round, 136th overall), at the Detroit Red Wings' annual prospect development camp. This interview took place on July 3. It is part of a series of interviews (individual links below).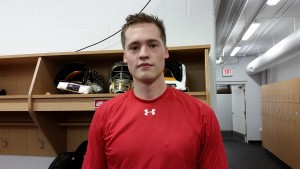 What are your first impressions of the camp?
It's been fun so far. First session on the ice there for about an hour and a half. Feels good to see those high-quality shots coming in, get my eyes kind of into it. I'm looking forward to a good week here.
Just kind of describe your game overall?
I'm aggressive, I like to play on top of the blue. I don't always go down, I'm not a strictly butterfly goalie. If I can I'll make the save trying to stand up.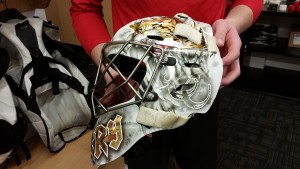 You seemed to have a pretty good glove hand, would you say that's one of your biggest strengths?
I'd say it's a good strength of mine, but I'm always looking to work on it and definitely not setting the bar right there.
What do you hope to take away from all this?
I just want to take it all in. You know, there's a lot of good shooters out here and there's a good chance for me to work on my game, work on my angles and tracking, and all that good stuff. So hopefully I take what I learn here at camp into next season.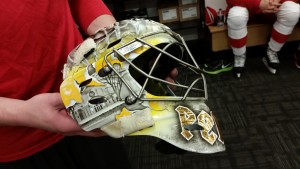 Which goalies did you look up to growing up?
I always liked Henrik Lundqvist. I just love the way he plays, very unique, really back in the crease. I haven't seen any goalie play like that before, and I just like the way he carries himself on and off the ice.
Is there an NHL goalie you would compare your style to?
I would say, probably, Jonathan Quick. He's more athletic, I feel that's kind of like I am. Aggressive on top of the blue, and I like to go side-to-side.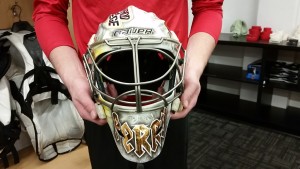 Is there anything you think you really need to work on going into the season?
I would say just play more simple, being less over-attacking and being more assertive and better my game that way.
What are your goals for next season?
Next season I just want to be the best I can be every game, give my team a chance to win as much as possible.
Check out my other prospect interviews in the links below:
Follow me on Twitter @KevinSporkaHOHM
Love Reading About Hockey?

Subscribe to keep up-to-date with the latest and most interesting hockey news!
| | |
| --- | --- |
| | We hate spam just as much as you |