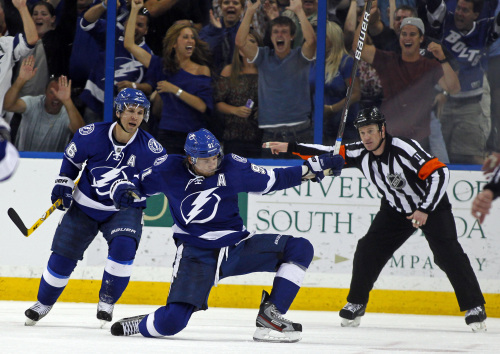 As a native of the Tampa Bay area, I can tell you that the Lightning have always been great in the community. They are always volunteering, donating money and really making themselves a part of Tampa Bay.
It's always special when a sports team feels more like a compilation of real, caring human beings rather than simply a group of guys you have to drive to the stadium to see. And on Friday, the Bolts helped another fan's dream come true.
Through the Make-A-Wish Foundation, 12-year-old Noah Difilippo was able to meet with his favorite hockey player, captain Steven Stamkos. Difilippo, who plays center for his youth hockey team in upstate New York, is in remission after four surgeries to remove a Spitz tumor caused by melanoma. His father, Douglas, told the Tampa Bay Times that Stamkos was an inspiration for Noah in his recovery.
Surely, he watched as Stamkos spent most of last season recovering from a brutal broken tibia that kept him out of action. I would think that the devotion and dedication it took to recover from such a debilitating injury makes Stamkos an ideal inspiration for someone like Difilippo.
Stamkos is also a great leader and captain for Tampa Bay. He's not reclusive and angry like Martin St. Louis always seemed to be. Rather, he really has embraced the leadership role thrust upon him in the Lightning locker room, and he has shown that he is comfortable being the face of the franchise to the public as well. And deeds like these, spending time with those who look up to him, make me inclined to believe that Stamkos really is a special one and the Lightning are lucky to have him. He seems to have a good head on his shoulders.
On Friday, though, Difilippo joined the Bolts for practice. Stamkos gave him a VIP tour through the dressing room, including a look at Difilippo's very own locker. Stamkos helped him suit up in a "91" Stamkos jersey of his own, and the two took the ice. They spent 30 minutes doing shooting drills, with Lightning backup goalie Evgeni Nabokov taking the brunt of the damage inflicted on goal by Difilippo. (See, he even gives up goals to twelve-year-olds.)
Stamkos called Difilippo a "playmaking center", saying he could play on his line any day.
"This made my day," Stamkos said. "To be able to see the smile on his face and see how happy his parents were and how much fun he was having, it rubbed off on everyone in here and put a smile on everyone else."
More importantly, Difilippo raved about the day spent with his hero, saying it was "maybe beyond" his wildest dreams. It really is great to see professional athletes taking advantage of the position they are in to influence people's lives in a positive way and to inspire those who look up to them as role models. There is a fine line between a good role model and a bad one, particularly in professional sports, but Steven Stamkos and the Tampa Bay Lightning seem to be going about things the right way.
Love Reading About Hockey?

Subscribe to keep up-to-date with the latest and most interesting hockey news!
| | |
| --- | --- |
| | We hate spam just as much as you |