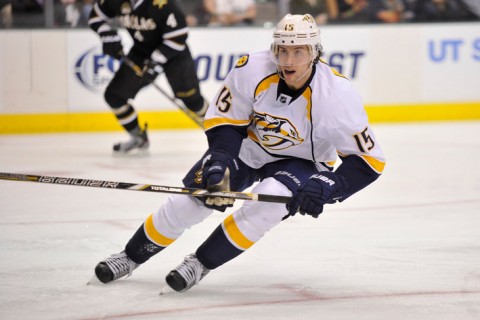 The 2014 IIHF World Championships are just under a week away, and Team USA is complete and ready to go.
On Friday, the Washington Capitals AHL starter David Leggio, and San Jose Sharks forward Tommy Wingels were the final selections added to the 25-man roster. Other notables on the team include Detroit Red Wings forward Justin Abdelkader, Toronto Maple Leafs defenseman Jake Gardiner, and veteran goaltender Tim Thomas. For Wingels, this will be his first experience playing internationally.
The team consists of 14 forwards, eight defenseman, and three goaltenders – resulting in 13 NHL clubs being represented – though many of those selected are not exactly considered to be the NHL's best.
Rookie defensemen Jacob Trouba, Danny Dekeyser, Jake McCabe, Matt Donovan, and Seth Jones will play key minutes along the American blue line, guided by Gardiner, and the Edmonton Oilers' average, veteran defenseman Jeff Petry. Interestingly, none of these rookies have played a full NHL season, and Dekeyser has yet to play on the international stage.
What's more, the Leafs' dynamic duo James van Riemsdyk and Phil Kessel will not lace up for the contest, with JVR choosing to get an early jump on off-season training.
But for any Americans reading this article, do not lose heart. Jones was a point-per-game player at the 2013 World Junior Championship, and the Nashville Predators' forward Craig Smith has joined the team for the third consecutive year. Smith earned a bronze medal in 2013 – registering 14 points in 10 contests – and this season Smith posted up 52 points in 79 games.
Plus another key forward recently added to the mix was Tamp Bay Lightning prospect Tyler Johnson. Johnson had a breakout year registering 50 points in his sophomore season, and was a key factor to the Lightning's success during the Stamkos injury. Without question, their offense will be heavily relied upon amongst their much younger and inexperienced line mates.
For instance Calgary Flames prospect Johnny Gaudreau has only played one NHL game, Chicago Blackhawks prospect Kevin Hayes plays for Boston College, and Andy Miele has only played 15 games for the Phoenix Coyotes over the course of three NHL seasons.
There will be 16 teams in the competition broken down into two groups of eight, whereby a round robin will commence within each set, and the top four teams from each classification will move on to quarterfinal action.
This is a young group lacking experience, but there is no better way for them to improve their skills than to face off internationally while the world is watching. Team USA is set to begin the tournament on Friday, May 9 against the host nation Belarus at 1:45 p.m. EDT.
Inexperienced or not, there is no denying that this group will come out ready to play, looking to improve upon their third place finish a year ago. These guys may not be in the quest for the cup, but the quest for gold has to be the next best thing.
So get ready hockey fans. The international stage is set, and the show is about to begin.