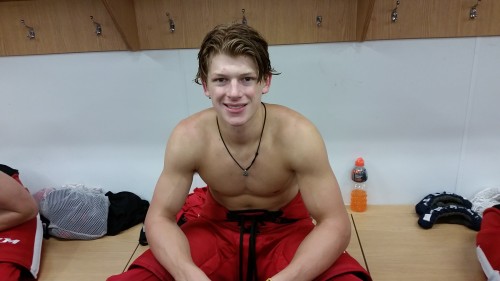 I spoke with 2015 draft pick, forward Chase Pearson, at the Detroit Red Wings' annual prospect development camp in Traverse City, Michigan. This interview took place on July 7. It is part of a series on interviews (individual links below).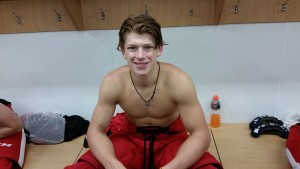 Just describe your thoughts about being drafted by Detroit.
You know, Detroit's an Original Six team, they've been around since the league started, and they've had a really, really great players, a bunch of hall-of-famers, so to be able to be in the same organization that those players were, it's an honor.
What were the emotions like when your name was called?
I can't even describe the feeling. Every kid's dream is to obviously play in the NHL, and this is the first step, and when I heard my name called, I was just really excited.
What are your thoughts on the camp so far?
They have some great drills. You know, Jiri [Fischer] runs a skating practice day and I think that's something I need to work on, so to be able to see these new things and practice with the caliber of players that are here, I think it's only helped me.
Are there any guys in particular here that kind of helped you through in your first camp?
Yeah, you know, Betzsy (Nick Betz), [Patrick] Holway and a couple other guys, we just kind of hung out around with them and they kind of showed me the ropes because they've been through this stuff before. It's good to have guys like that. It makes you feel a lot more comfortable when you come in.
You had a pretty successful scrimmage here, a goal and an assist in this one (Tuesday), two assists in the last one (Saturday), just talk about what that was like.
Yeah, it was pretty cool. You know, to come in and be able to do that. It was kind of neat. Playing with the guys of this caliber obviously helps. When you play with better guys you get better results.
You played in Youngstown of the USHL last year. What was your role on the team?
I kind of play a shutdown role most of the year, you know, playing a defensive and kind of checking role, which is good for me because it brought out my defensive side of the game that I didn't know I had, and it'll help me down the road.
Next year you're going to the University of Maine?
Yeah, it's still up in the air, depends on if I finish school, I'm only in Grade 11, so I have to take summer courses, and if I get those done I think I'm going to go in.
Who were some of your hockey influences?
My dad (Scott Pearson, drafted 6th overall in 1988), he used to play, so he kind of got me into it at a young age and he coached me growing up and I think that helped me a lot to get where I am today.
Which NHL player(s) in particular did you watch more so than others growing up?
Growing up I watched, Anze Ko…not Anze Kopitar, Rod Brind'Amour. He was always a guy you kind of try to look up to and he was a leader, played on the Hurricanes for quite a while and won a Stanley Cup there, so it was pretty cool to see that.
Is there an NHL player you would compare your style to?
Yeah, Anze Kopitar (laughs), that's what I meant there (laughs). I try to model my game after him. He's a two-way centerman, can put some points up on the board. If you try and look up to guys like that, it will make your ceiling higher and you can possibly be better down the road.
What do you think you need to work on the most going into the season?
My skating definitely. That's something that can always be improved on, but for me it's the biggest thing. And just training in the off-season and getting more explosive power in your legs and working out in the gym, so that's how I'll get better at that.
What are your goals going into next year?
Next season, obviously, I'm going to try to put more numbers up on the board. I think, wherever I end up, I'm gonna play a little bit more of an offensive role than I did last year and I think you'll see my game rise on the offensive side.
Check out my other prospect interviews in the links below:
Follow me on Twitter @KevinSporkaHOHM
Love Reading About Hockey?

Subscribe to keep up-to-date with the latest and most interesting hockey news!
| | |
| --- | --- |
| | We hate spam just as much as you |