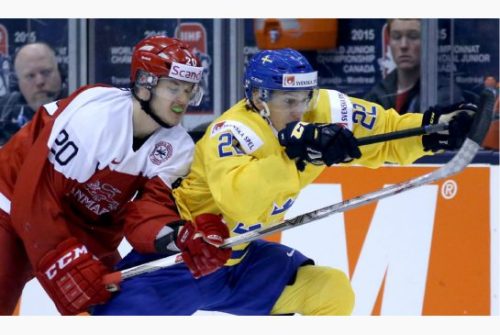 Sweden made it two out of two in great style on Saturday night. After a 5 – 2 victory over the Czech Republic, their meeting against Denmark was done in just as convincing style.
The Swedes were heavily favoured coming into Saturday night's fixture and have been favourites to advance from Group B since before rosters were even announced, and they showed why as the cruised past their Scandinavian neighbours.
It took 10 minutes for the Swedes assault to begin, Lucas Wallmark was first on the board, netting an unassisted strike after capitalising on a mistake from Danish defenseman Anders Krogsgaard, then just 2 minutes later Anton Blidh finished off some nice passing to give Sweden a 2 – 0 lead.
Before the period was over the Swedes celebrated again, William Nylander found the net with 33 seconds left in the period, and with 3 goals allowed in 9 shots, Denmark goalie Georg Sorensen was relived of his duties at the start of the second period in favour of 18-year old Thomas Lillie.
Coming in after sitting out the first 20 minutes, Lillie's entrance to the game got off to a bad start. Just 13 seconds after he stepped onto the ice, Jacob de la Rose found the back of the net after some poor defence from Denmark to make it 4 – 0.
Denmark did have some reason to cheer, no sooner had they gone down by four were they celebrating a goal of their own, Nick Olesen grabbed the Danes sole goal, beating Linus Soderstrom with a backhand effort.
Late in the period Sweden were up a man with Denmarks Marcus Nielsen sitting in the box for holding, Swedish Sebastian Aho capitalised giving Sweden a 5 – 1 victory, keeping them at the top of Group B with a day off scheduled for tomorrow.
After the day break, Sweden turn their attention to their most difficult Group B rivals Russia, while Denmark will begin to fight to save their competition with a Monday matchup with the Czech Republic