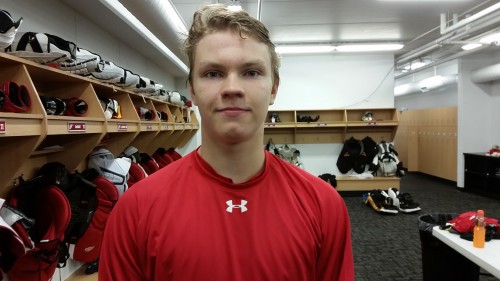 I spoke with 2015 draft pick, defenseman Vili Saarijärvi, at the Detroit Red Wings' annual prospect development camp in Traverse City, Michigan. This interview took place on July 6. It is part of a series of interviews (individual links below).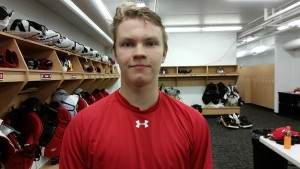 Talk about being drafted by Detroit, what that was like for you.
It's unbelievable, an organization like Detroit. It's unreal and I'm so happy that I can be part of this organization. I'm pretty excited.
What was it like signing your first professional contract? Do you anticipate signing a contract so soon after being drafted?
No, I didn't think about that when I was drafted, but of course now I'm really happy that we got the goal set for the next year, and I'm going to Flint (OHL), so I'm happy.
Talk about the camp and the seminars, nutritional and social media. A lot of helpful information that you think can benefit you?
I haven't been on much social media. It's different language so I'm learning all the time more and more, but I like it so far. It's been pretty cool. I like it though. It's not that bad, I'm not too nervous doing that stuff, and I'm learning every time and I need to talk, so it's good for my English.
Last season, just describe your year and the role that you played on the team.
I had a big role in Green Bay. I played first and second pair and I played power play. I didn't play that much penalty kill, but sometimes. There were bigger stars that played the penalty kill, but of course I was ready if I had to go I'm going of course. It was a pretty good year for me, but we had tough times in Green Bay, but that's hockey sometimes. Every time everything can't go how you want.
Describe the type of hockey that you play.
Offensive game. That's my biggest strength, skating. I can give the first easy pass or I can skate the puck and play power play.
Did you watch a lot of NHL hockey growing up?
Actually, I didn't that much, but when I was getting older, I watched it more and more.
When you started watching, was there any NHL player in particular that you liked to watch?
Duncan Keith is one of those, and Sami Vatanen. I play a little bit like them and I try to take some little things from those guys.
Who were some of your hockey influences growing up?
Of course my family. My coaches in my hometown of Rovaniemi [Finland], and Oulun where I had the contract and played there the last few years before I went to Green Bay, then the Green Bay coaches.
What are some of your goals going into next season with Flint? What do you hope to accomplish?
Just to help the team as best I can and of course be a better player and [get] stronger. And then probably one of my goals next year is to play the World Juniors in Finland.
Check out my other prospect interviews in the links below:
Follow me on Twitter @KevinSporkaHOHM
Love Reading About Hockey?

Subscribe to keep up-to-date with the latest and most interesting hockey news!
| | |
| --- | --- |
| | We hate spam just as much as you |