I spoke with 2014 draft pick, Finnish forward Julius Vahatalo, at the Detroit Red Wings' annual prospect development camp in Traverse City, Michigan. This interview took place on July 6. It is part of a series of interviews (individual links below).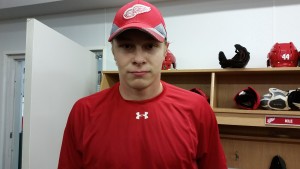 Talk about having Todd Nelson here now, a little different than Jeff Blashill.
Yeah, I think we had some different drills than last year.
What have you improved/progressed in your game since last year?
I think probably skating in the last couple months and it's been better, but it must be more better. [Also] maybe shooting.
Talk about the year that you had last season and the role you played for your team.
I was on the fourth line maybe, about 8-10 minutes per game, so of course I want to play more minutes this year, like 15 minutes per game.
Describe your game overall. What type of hockey do you play?
I think I'm an all-around player, I like defense and definitely offense.
What do you hope to take away from this camp in your second year?
Yesterday we got some meeting with how we're supposed to eat, something like that.
If you had to compare your style to an NHL player, who would that be?
Maybe like Mikko Koivu.
What's been your favorite hockey memory you've had?
Last year's World Championship in Canada.
What are your goals going into next season?
Being in more offensive role than last year, like on second or third line and play PK and PP.
Check out my other prospect interviews in the links below:
Follow me on Twitter @KevinSporkaHOHM